Key Features and Benefits
The CentrePoint platform solves many of the practical and logistical challenges of objective activity and sleep monitoring within complex clinical trial environments and large scale, multi-site health research studies:

Simple Technology Deployments
Get new sites up and running with ease with our simple, scalable cloud platform. With custom study pre-configuration and automated workflows, CentrePoint® requires minimal site training and IT resources.

Remote Adherence Monitoring
Minimize missing clinical data with remote participant adherence monitoring. With real-time access to participant wear compliance data, study teams can verify protocol adherence and intervene when needed.

Real-Time Data Visibility
Instant visibility of participant data, site metrics, and overall study progress helps study teams quickly identify and address potential issues to keep trials running on time and on budget.

Data Standardization & Traceability
All participant data are standardized, time-synchronized, and stored securely in the cloud. A detailed audit trail provides a permanent record of all system interactions.

Flexible Data Reporting
Create and export custom CSV reports containing different configurations of the site and/or participant data for archiving and analysis outside of CentrePoint.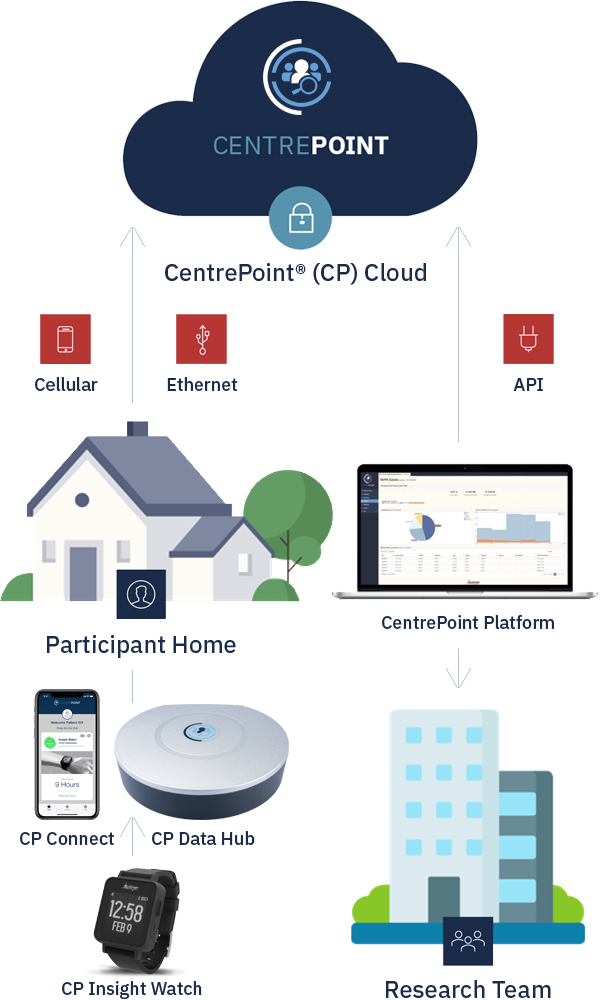 CentrePoint® Platform Components
CentrePoint Data Hub
This cellular-powered communication gateway securely and automatically transmits data collected by the CentrePoint Insight Watch to the CentrePoint cloud.
CentrePoint Connect
ActiGraph's participant-facing mobile app for Android and iOS can be used to initiate data uploads from the CentrePoint Insight Watch to the CentrePoint Cloud anytime, anywhere.
CentrePoint Cloud
This robust and scalable cloud software system is built around a powerful raw data engine that manages, processes, and stores vast amounts of high-resolution data with ease and infinite scalability.
CentrePoint Web Portal
ActiGraph's secure, permissions-based web portal provides access to near real-time participant wear compliance and outcomes, site performance details, and overall study progress.
CentrePoint API
The CentrePoint API enables integration of ActiGraph outcomes data directly into a proprietary client or partner system, or third-party EDC platform.
Interested in Using CentrePoint® to Collect Data?