Martin Luther King Jr. Day
Our office will be closed Monday, Jan 21st in observance of Martin Luther King Jr. Day. We will reopen at regular business hours on Tuesday, Jan 22nd.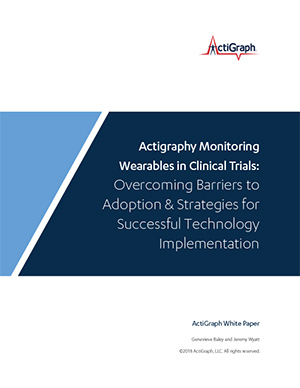 Actigraphy Monitoring Wearables in Clinical Trials: Overcoming Barriers to Adoption & Strategies for Successful Technology Implementation
New and emerging digital technologies offer clinical trial sponsors an unprecedented opportunity to capture a wide variety of real-world, patient-generated data. One of the more prevalent tools within this rapidly evolving mHealth ecosystem are medical-grade wearable actigraphy monitoring systems, which are increasingly being used in clinical trials to collect objective physical activity and sleep-related patient outcomes.
In this white paper, ActiGraph experts will discuss several common perceived barriers to actigraphy adoption and identify strategies to help sponsors develop a successful technology implementation plan and navigate the common challenges that can derail any mHealth data collection initiative, including:
Data quality and meaningful interpretation
Adoption costs and uncertain ROI
Increased study complexity
Regulatory concerns
Patient adherence and burden